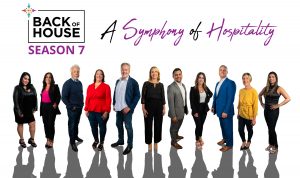 World-class Hotel & Resort to Premiere Season 7 of its Multi-Award-Winning Digital TV Series with Opportunities for Viewers to Win an Overnight Stay for Two in a Presidential Suite
Uncasville, CT (October 4, 2023) – Embracing the evolving trends in both entertainment and hospitality, Mohegan Sun, one of the world's top hotels, has announced the launch of the latest season of its original TV series, "Back of House." Starting Wednesday, October 11th at 7:30 PM EDT weekly episodes will reveal the magic behind making Mohegan Sun the leading entertainment destination on the East Coast.
"Bingeable at backofhouse.tv, the show reaffirms Mohegan Sun's dedication to providing really special entertainment and hospitality to our guests whether they're physically here at our resort or at home," said George Galinsky, SVP of Marketing Communications at Mohegan. "This season showcases our team's passion to create memories that last a lifetime and importantly, how great hospitality gets done!"
Primal-NY's award-winning production studio returns to capture every behind-the-scenes moment. Robert Conticelli, President of Primal-NY, commented, "It's always a privilege to document the art of world-class hospitality at Mohegan Sun. This season provides viewers with a rich tapestry of events and personalities – promising to be our most informative and entertaining yet."
"Back of House Season 7 – A Symphony of Hospitality" invites viewers to peek behind the curtain as Mohegan Sun impresses guests with celebrations fit for royalty. From the extravagance of a major sports celebrity's retirement party to the induction ceremony of some of basketball's greatest, season seven is a grand tour of luxury and captivating events that offers behind-the-scenes looks at tips for crafting unique new cocktails, how to deal casino table games, a sneak peek at Mohegan Sun's new Royal Suite and more:
Episode 1: A Sweet Retirement Party for Gronk. You in?
As the sun sets on an illustrious career, friends, family and fans gather to honor a true sports icon. Lauren and Lindsay are tasked with throwing a retirement party that is a fitting tribute to this larger-than-life personality. The event is the first party in the Mohegan Sun FanDuel Sportsbook, which comes with its own set of logistical hurdles. With great skill, Mohegan Sun's Team Members create a legendary send-off for one of the greatest Patriots of all time!
Episode 2: Shaken or Stirred. Bartender Competition Anyone?
Chris has new spirits and beverages on his mind, so he creates a cocktail competition to put three of Mohegan Sun's best restaurants to the test. Already known for great dining and service, the light now shines on the bartenders who bring this incredible experience to life. In a race against time to craft unique new cocktails, each goes up against the very best in front of fantastic judges who will choose which tasty drink is crowned "Best Cocktail at Mohegan Sun!"
Episode 3: We're Trading Places on the Casino Floor?!?
Don loves a good surprise and Geena from HR has a big one for him today. He is tasked with condensing a 6-to-8-week Dealer School course into a few hours. Eric and Nikki are the lucky team members trying to transfer their knowledge of hospitality into the uncharted waters of dealing table games. They learn all the ins and outs of what it takes to be a dealer at Mohegan Sun, but can they handle the pressure of taking what they've learned to the casino floor?
Episode 4: The Real MVPs. Behind Basketball's Best Party!
The Basketball Hall of Fame is inducting their new class, and where better to do it than Mohegan Sun, where countless celebs, entertainers and sports stars always have a great time. Dana and the team have many events over two days, and the hospitality must shine through. Simultaneously, Lindsay is overseeing after-parties for two Hall of Fame players at novelle and TAO. Attention to detail is vital as all moving pieces must come together perfectly.
Episode 5: Beyond the Bets. How Royal Treatment Gets Done.
The new Royal Suite is now ready for guests. Chris and Matt are brothers coming in from New York. They are regulars in Vegas but prefer the way everyone at Mohegan Sun treats them. Amber and Jana simply see it as another fun day orchestrating a symphony of service that runs in harmony with their guests' desires. Impeccable, authentic, and personal service abound, and these guests feel truly satisfied.  At Mohegan Sun, hospitality is King – and Queen.
Episode 6: Guess Who's Performing Tonight? Everyone!
The grand opening of the OLG Stage is upon us, with world-class entertainment at Fallsview Casino Resort in Niagara. Tom agrees with the Niagara team that there is no better way to celebrate than a one-of-a-kind night with Billy Joel. This legend did ten sold-out shows at Mohegan Sun. Cathy and the entire team work to craft the perfect party to mark the occasion. Each exceptional moment makes this grand opening a masterpiece for special guests.
This season premiere on backofhouse.tv, viewers can enter to win unprecedented access into the world of special celebrations, unmatched service and iconic personalities. One grand prize winner will have the opportunity to enjoy an overnight stay for two in the property's premier Presidential Suite and receive a $250 Mohegan Sun gift card. For more information on "Back of House," please visit backofhouse.tv.
Since its inception, the "Back of House" series has been viewed in more than 19 countries and 625 cities. The series has also proven to be an exciting recruiting tool for talent to consider joining Mohegan Sun. "Back of House" has also won many digital marketing and video production awards, both platinum and gold, which include HSMAI, Telly, Vega, Marcom and Communicator honors.
ABOUT BACK OF HOUSE:
"Back of House" swings the doors of hospitality and entertainment wide open. It is a trailblazing all-access pass to the action behind the action at one of the world's largest integrated casino resort destinations, Mohegan Sun. Enjoy following fun, dedicated resort employees as they navigate obstacles and challenges in their quests to make each guest's stay a perfect getaway experience. For more information, visit backofhouse.tv where you can also book a room, buy show tickets, gift cards, Mohegan Sun merchandise, and even check out careers with Mohegan Sun.
ABOUT PRIMAL NY:
Primal NY is a full-service production studio specializing in brand discovery, digital strategy, content creation and distribution. Primal positions clients in ideal Digital, TV and Film scenarios. Based in New York City, the award-winning team of diverse filmmakers has experience across many industries including fashion, sports, music, hospitality, and motion pictures. Primal seeks relationships where opportunities exist to develop original content that enhances a client's brand identity by finding unique ways to tell their stories. For more information, visit primal-ny.com.
ABOUT MOHEGAN SUN:
Owned by Mohegan, Mohegan Sun is one of the largest, most spectacular entertainment, gaming, dining and shopping destinations in the United States. Situated on 185 acres along the Thames River in scenic southeastern Connecticut, Mohegan Sun is home to two unique casinos, 1,600 deluxe hotel rooms, two world-class spas, a golf course, more than 70 shops and luxury retail, world-class restaurants and bars, as well as three award-winning entertainment venues including the 10,000-seat Mohegan Sun Arena. With industry-leading digital gaming offerings, including Mohegan Sun Beyond and the Mohegan Sun FanDuel Sportsbook, the flagship property offers cutting-edge gaming solutions to global customers both online and in-person. Mohegan Sun is within easy access of New York, Boston, Hartford and Providence and located 15 minutes from the museums, antique shops and waterfront of Mystic Country. More information is available by calling 1.888.226.7711 or visiting mohegansun.com. Connect with us on Facebook; follow us on Twitter and Instagram @mohegansun; view us on YouTube; and find us on Snapchat at username MoheganSun.