Find the latest updates on Mohegan construction projects and property expansions that promise to enhance its guests' experience worldwide. From stunning venues to state-of-the-art hotels, Mohegan is making its mark as a leading global entertainment and gaming brand.
Mohegan INSPIRE Entertainment Resorts 2023 Grand Opening
Mohegan INSPIRE Integrated Resort is a special purpose company established in Korea by its 100% shareholder Mohegan, a premier global casino integrated entertainment resort operator. Mohegan INSPIRE will be developed as the largest resort in Northeast Asia in the IBC-III area of Incheon International Airport, Yeongjong Island by 2031 through a total of 4 phases of development. The first phase of the resort facility is currently under development, featuring three 5-star hotels (about 1,200 rooms), a 15,000-seat arena (a multi-purpose performance hall), an indoor water park and convention facilities, a foreigner-only casino, a digital street, and an outdoor family park.
Visit the Mohegan INSPIRE Entertainment Resort for more information here.
Mohegan Sun Property Enhancements
Mohegan's flagship property, Mohegan Sun Connecticut, is investing $15 million in new projects, including a 6,500 sq. ft. VIP Lounge & Bar in the Casino of the Earth with new dining options, a bar, and an alluring fireplace. The Royal Suites will receive a fire and water-themed makeover, and the golf course is undergoing a 3-year plan for significant course and equipment improvements. In Casino of the Sky, updates to the popular Sachem Lounge have also begun. The Summer Entrance outdoor patio is also undergoing major upgrades and will soon feature a permanent outdoor bar & deck. Phase two of this project will roll out a brand-new music stage and a re-imagined area dedicated to activities and lawn games for summertime events like Party on the Patio.
Visit the Mohegan Sun website for more information here.
Mohegan Sun's New Beauty & Essex Restaurant with TAO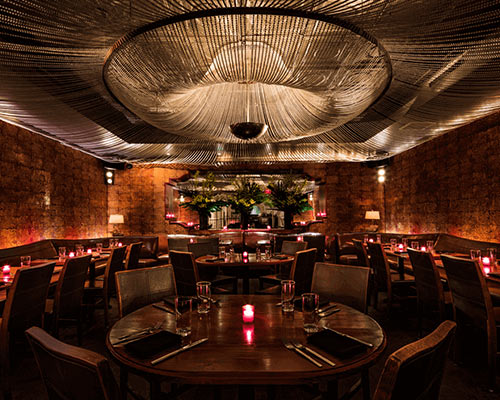 Mohegan has partnered with Tao Group Hospitality to bring the popular Beauty & Essex restaurant to Mohegan Sun. The new addition will offer unique global cuisine and shareable dishes by acclaimed Chef Chris Santos. The addition will further enhance Mohegan Sun's reputation as the East Coast's top resort destination.
Visit the Mohegan Sun website for more information here.
ilani, Mohegan's premier Pacific Northwest casino, has unveiled a four-diamond level luxury hotel May of 2023. The 14-story glass tower offers nearly 300 rooms, an indoor-outdoor pool, a state-of-the-art fitness center, and a signature top-floor restaurant with stunning views. The hotel incorporates elements of the Cowlitz Indian Tribe's heritage, extending the ilani experience. The collaboration between Cowlitz and Mohegan will also create jobs and bring economic opportunity to the region.
Visit the ilani website for more information here.
ilani has officially opened a new sports wagering venue. ilani Sportsbook, located within The Stadium Sports Bar & Grill, features the region's most prominent video wall, including an audio customization option that allows fans to listen to their favorite games on their phones using the Listen EVERYWHERE® app. Just outside The Stadium Sports Bar & Grill, The Betting Lounge offers a complete sports-watching and wagering experience, including a comprehensive food and drink menu and oversized comfort seating.
Visit the ilani website for more information here.
Resorts Casino Hotel Atlantic City's New Pool Deck
Resorts Casino Hotel's $4+ million renovation includes a brand-new 45,000-gallon pool with a state-of-the-art retractable roof that allows for year-round swimming and relaxation. Also included in the upgrade is a 12-seat full-service bar and a modernized fitness center.
Visit the Resorts Atlantic City website for more information here.
Mohegan Pennsylvania's Brand New Venues
Mohegan Pennsylvania's guests are now enjoying an elevated experience with the launch of two exciting new venues, Embers Terrace and The Hive Taphouse. Embers Terrace is an outdoor bar with Adirondack seating, fire pits, live entertainment, dining, and an outstanding drink menu. The Hive Taphouse features 20 beers on tap, a live music stage, Topgolf Swing Suites, and various multi-sport games for guests to enjoy. Guests can now unwind with a drink, support their favorite sports team, or enjoy a live performance in a contemporary setting.
Visit the Mohegan Pennsylvania website for more information here.
OLG Stage at Fallsview Casino Resort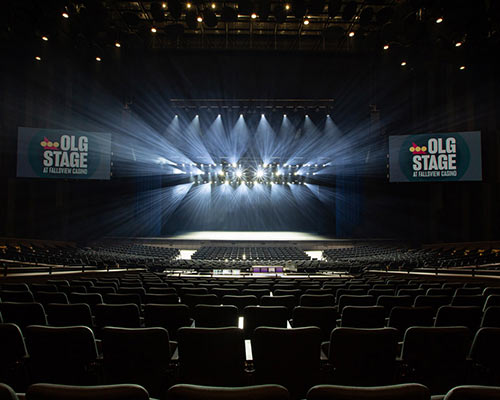 Fallsview Casino Resort, Mohegan's premier casino resort in Ontario, Canada, partnered with the OLG and Niagara Falls Entertainment Partnership to build a brand new entertainment center in Niagara Falls - the OLG Stage at Fallsview Casino. Boasting a seating capacity of 5,000, this world-class theater features cutting-edge technology, exceptional acoustics, and spectacular entertainment. With seats located no more than 150 feet away from the stage, whether in the balcony or front row center, guests are always close to the heart of the action. On February 25, 2023 Billy Joel performed a historic sold out debut show in honor of the grand opening of the OLG Stage at Fallsview Casino marking the next chapter in the songwriter's longstanding relationship with Mohegan.
Visit the Fallsview Casino Resort website for more information here.
ilani's Meeting Center Expansion
ilani Casino Resort is undergoing an expansion of its unique 30,000 square foot meeting and entertainment center. Equipped with full production, lighting, and sound specialists, its state-of-the-art amenities make it the perfect venue for large concerts and smaller gatherings. Stay tuned to our newsroom for updates.
Visit the ilani website for more information here.
Betfred at Mohegan Sun Sportsbook in Las Vegas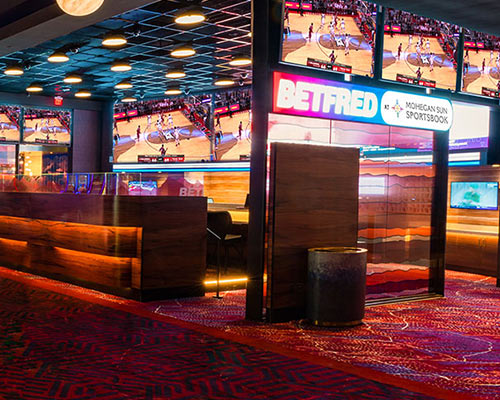 In February of 2023, Mohegan Sun Casino Las Vegas, in partnership with one of the largest privately-owned bookmakers in the world, officially opened Betfred at Mohegan Sun Sportsbook. Conveniently located on the casino floor, Betfred at Mohegan Sun Sportsbook boasts luxury seating, a state-of-the-art video wall with high-definition TVs and over-the-counter wagering. Fans can take advantage of a variety of betting options including, parlays, in-game wagering, teasers, futures, props and more.
Visit the Mohegan Casino Las Vegas website for more information here.
FAQs
Where can I learn more about Mohegan investments?
You can learn more about Mohegan's impact and financial portfolio here.
What Mohegan projects are planned for the future?
Everything listed in our construction page are projects recently completed or planned for the near future. Any updates to our plans will be added as Mohegan continues to add to its portfolio. Follow our newsroom for the most recent updates.
How do I get in contact with Mohegan?
You can contact us here.
Where can I find the full list of Mohegan properties?
You can find it here.