Uncasville, CT and Incheon, South Korea (August 1, 2016) – The Mohegan Tribal Gaming Authority (MTGA) operator of Mohegan Sun properties throughout the United States and majority partner of Inspire Integrated Resort Co., Ltd. (Inspire), and IIAC concluded the implementation agreement providing Inspire exclusive rights to develop the planned world-class Korean integrated resort project to full-scale.
This milestone follows the June 30, 2015 signing of a memorandum of understanding by MTGA and IIAC and the February 26, 2016 license awarding to MTGA along with partners KCC Corporation and Incheon International Airport Corp (IIAC) by the Korean Government to develop and build a first-of-its-kind integrated resort. Inspire is slated to open in 2020.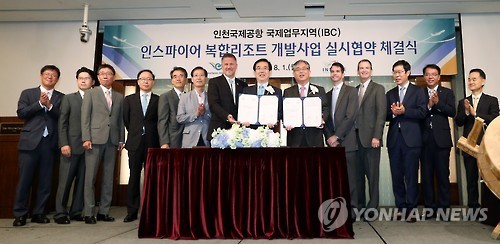 (At center, from left to right) Kevin "Red Eagle" Brown, Chairman of the Mohegan Tribe, Chung Il-young, CEO of the Incheon International Airport Corporation, Yeon-sup Kang, Representative Director of Inspire Integrated Resort and Bobby Soper, President of MTGA, concluded the implementation agreement for Inspire Integrated Resort in South Korea. Inspire, the first-of-its-kind integrated resort with adjacent FBO, is slated to open in 2020.